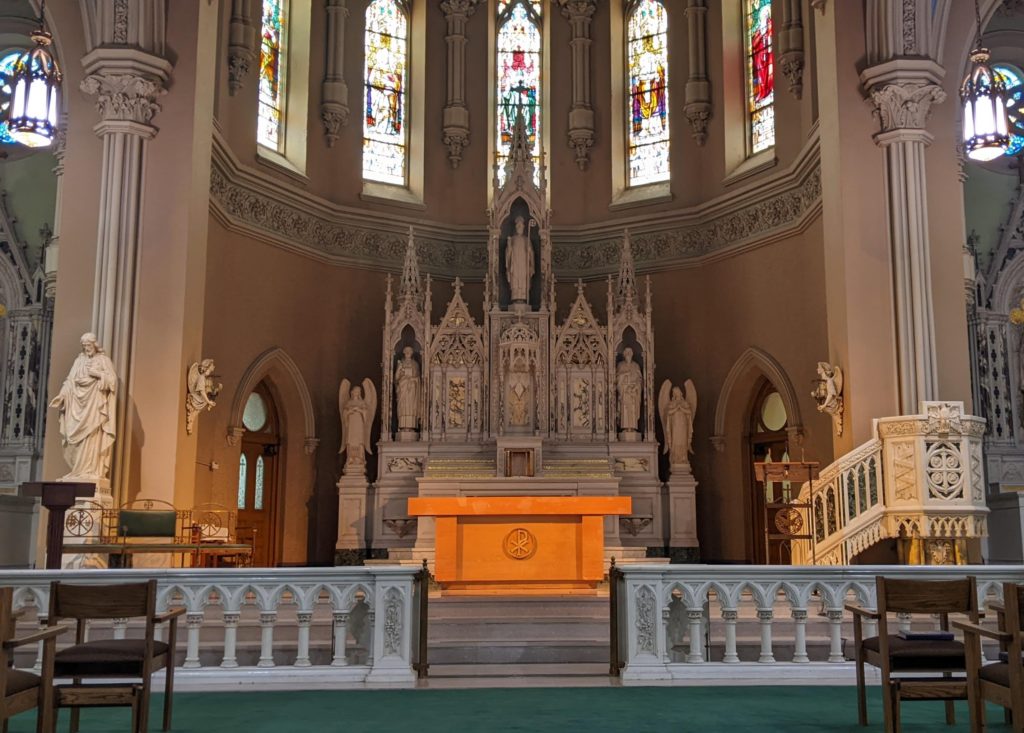 You may recall last year that we moved the main altar into the upper sanctuary during Holy Week and the Easter Season for two basic reasons: to allow for social distancing and to accommodate for livestreaming the variety of ritual actions.    
While the social distancing has been relaxed due to vaccinations now in full swing, there are a number of additional reasons we'll see some temporary changes to the sanctuary area this spring and summer. The next set of windows to be restored are located near Saint Joseph altar and the new east side emergency egress will begin shortly after Easter. Additionally, the Blessed Mother and St. Joseph shrine areas will be repaired from water damage. All of these projects will impact the Music Group's space. Instead of displacing the group altogether, we're moving the piano and musician stands onto the green platform during the restoration projects. This will require the moving of the Celebrant's Chair as well as the altar and ambo in order to accommodate everyone's needs.
Therefore, it may be necessary for folks to adjust their seating preferences because of new sight lines between them and the rearranged sanctuary. For those who feel the altar is too far away, we invite you to move up. Weekday Mass participants will also be invited to try some different seating arrangements should they choose to do so. While this may not be an ideal decision for everyone, your patience is greatly appreciated as we continue to restore our beautiful worship space.
Additionally, in response to a substantial piece of ornamental façade trim falling from the parish Club building, a stone mason was contracted to inspect and repair the entire perimeter of the building. To date, several pieces have been identified and repaired. We hope to have everything reinforced as soon as possible due to the urgency of the situation.
While the caution tape remains up, we will use the West entrance to the building for most events, including Coffee and Hospitality on 1st and 3rd Sundays.